Flap Barrier
The Panyu Zhonghao Industrial Park has created a grand atmosphere to create the "South China Creative Industry Joint Fleet and the Grand Guangzhou New City Center."
In the current plan, Zhongli MOCA·Creative City Park covers an area of ​​nearly 200,000 square meters, with a total construction scale of nearly 500,000 square meters. After completion, it can accommodate 1000-1500 creative enterprises and can provide about 30,000 jobs. Position, expected total annual output value of more than 7.5 billion yuan. The first phase of the park is a creative design group with 100-1000 square meters of flexible free combination active space, and creatively launched 5.8 meters high-rise high, which can help enterprises create duplex office space for advertising, architecture, products, environment, Global workers in creative industries such as brands provide a superb work and communication platform.
In and out of the door, according to the installation of shenzhen jiaxuntong technology Co., ltd intelligent flap barrier gates channel, can effectively manage the entry and exit of personnel, personnel entering and leaving the industrial park need to be authorized to pass, authorization is to enter and exit the card . It can guarantee the safety of people in the park. The flap barrier turnstile gates can be double-in and double-out. The Flap barrier is installed outdoors. It is waterproof and can be protected from sun protection. Applicable temperatures range from -20 degrees Celsius to 60 degrees Celsius.
The turnstile gate uses 304 stainless steel with a cover thickness of 1.5 mm and Turnstile gates Housing with a thickness of 1.2 mm. The stainless steel we choose is of good quality, so its color does not change with time.
Because the movement and control panel are independently developed by us and have been continuously improved after 15 years of testing, it has the following characteristics: 1. The speed of the wing gate is fast, 45-50 people per minute. 2. The wing gate is stable when the door is opened, and there is almost no noise. 3. Anti-collision. 4. It can effectively prevent tailing and other functions.
Power requirements

AC 100 ~ 120V/200 ~ 240V, 50/60Hz

Working temperature

-28℃~60℃

Working humidity

5%~80%

Working environment

Indoor/outdoor (if sheltered)

Speed of throughput

RFID

Maximum 45/ minute

Lane width(mm)

600/ (900MM Wide Lane Available)

Dimensions(mm)

L=1400, W=280, H=980

Dimension with packing(mm)

L=1500, W=350, H=1100

Net weight(kg)

85

Weight with packing(kg)

95

LED indicator

Y

Cabinet material

SUS304 Stainless Steel

Sensor

4 pairs

Barrier material

Acrylic(18mm)/PMMA (thickness 50mm, red/blue optional)

Barrier movement

Retracting

Emergency mode

Y

Security level

Medium

MCBF

5 million

Options/Accessories

Counter, SUS316 Cabinet and Lid, Remote Control, Access Control

Transmission Variant

Gear transmission

Housing Thickness

1.5*1.2mm (Top*Housing)

Enclose Rating

IP54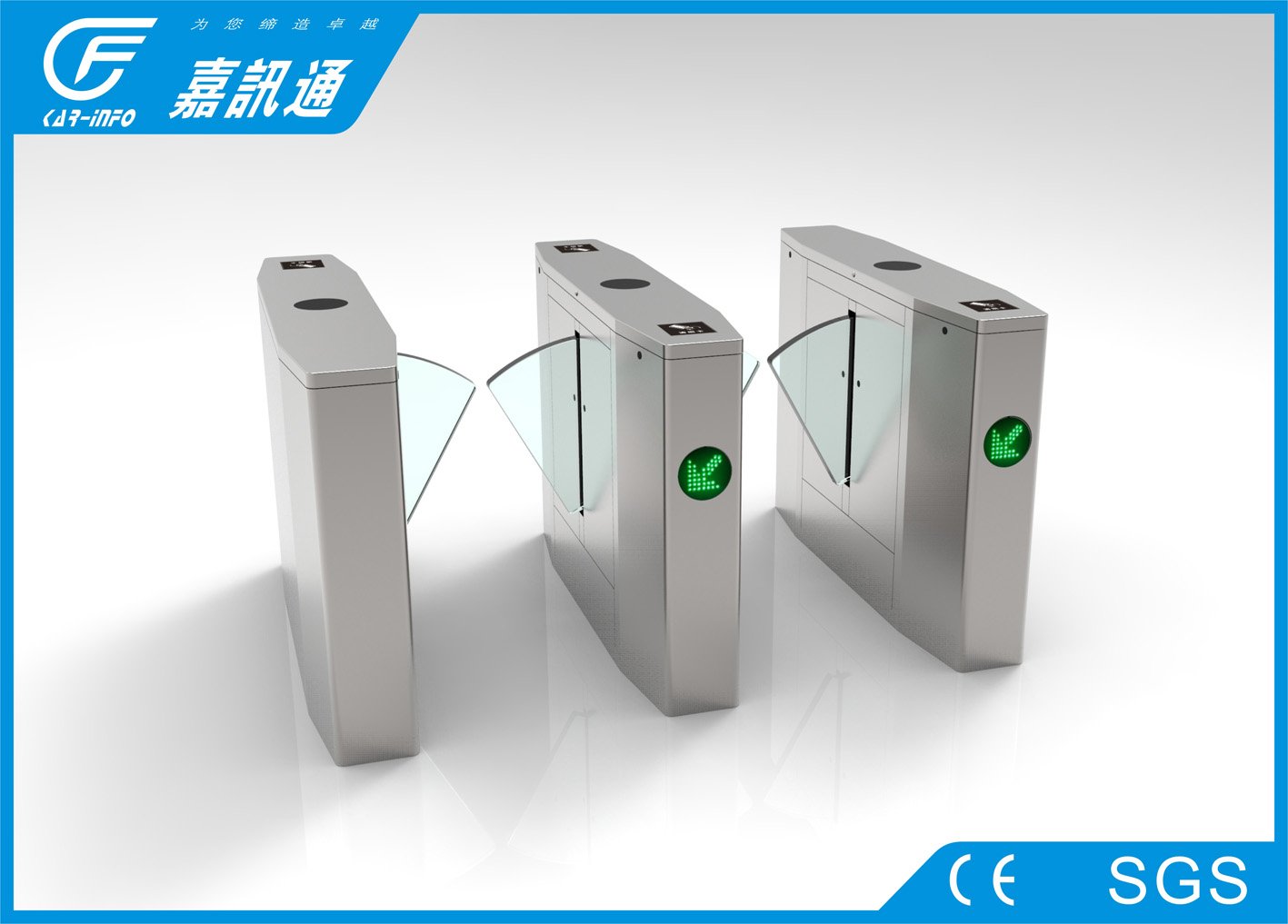 If there are any questions, or you want to no more about flap barrier, please feel free to contact with us.