Flap Barrier
Flap Barrier is the ideal solution for quickly and effectively regulating people in places where safety is not critical. The channel width can be increased to make it suitable for wheelchair pedestrians, strollers or material transport carts. Various functional modules are able to quickly adapt to space conditions, number of users and many other requirements. The channel is carried out without contact. An infrared sensor switch detects the user and opens the wing before they touch. After passing, the wings will automatically close. The wing elements are made of PU foam or tempered glass to ensure maximum personal safety. In addition, infrared sensor switches help to keep them safe: they record the passage of people who are trying to pass, fail to pass or lack authorization and trigger an alarm.
#automatic gate barrier system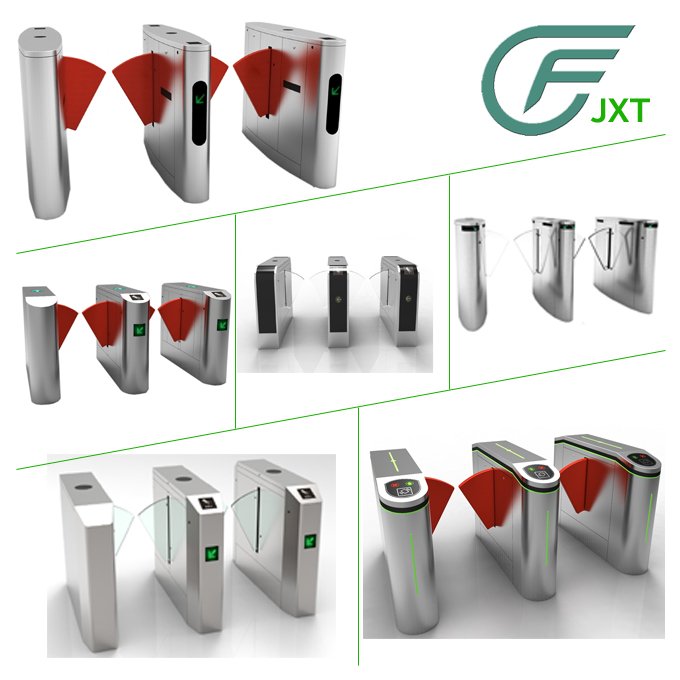 Flap Barrier
The retractable gates can be used double entry and can be regulated with all general access control systems. The flap barrier are available with PU foam wings or acrylic glass wings.
Our company is a manufacturer which are specialized in Speed gates, tripod turnstile, flap barrier, Swing gates, full height turnstile etc.
Production line

R&D Team

Technical team

After-sales service and customized service
Short opening times of 0.3 seconds for a high throughflow frequency

Comfortable non-contact passage

Simple integration of all common access control systems

Wide variants suitable for wheelchairs, prams, and material transport
JXT is a manufacturer, we can make OEM turnstile barrier gate, for our flap barrier, can integrate with facial recognition, RFID card, QR CODE, Barcode and Fingerprint.
Our flap barrier price is conpetitive.
Turnstile barrier gate are very popular.
Application area:
Luxury flap tursntile, adopts high standard brushed 304 stainless steel, double brushed surface treatment, dustproof, rustproof, rainproof design, suitable for indoor and outdoor use.