Speed Gate
Today, speed gates are increasingly popular with security doors. Due to its stylish appearance and wide range of functions, the speed door of Shenzhen Jiashuntong (JXT) Technology Co., Ltd. has been designed according to various places, including offices, banks, administrative facilities and so on. Elegant design, stainless steel casing combined with usability Glass or metal surfaces make these very stylish. The speed gate is equipped with an optical sensor (infrared) that prevents unauthorized access and provides dense, authorized pedestrian access. By default, all security gates are set to the "normally closed" state. Other access control modes such as "Normally Open" or "Free Exit" can be used.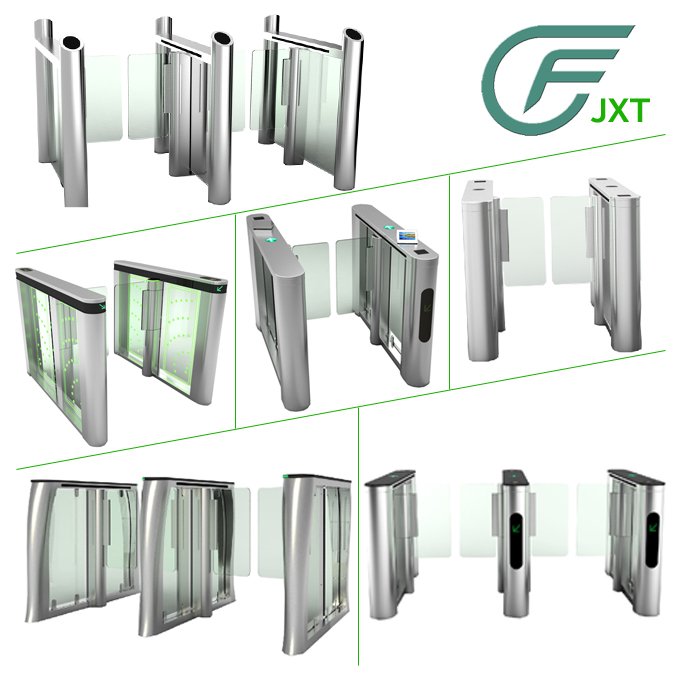 Speed Gate
JXT speedgate uses the latest high-tech access control system to ensure the number of pedestrians, ensuring that only one person is allowed to get an authorization card and can only use it. Their use is simple, so everyone starts first. The most important thing is that it has a fast shipping speed. It can handle up to 60 people per minute and offers a variety of designs to meet the needs of the place of use.
Our company is a manufacturer which are specialized in Speed gates, tripod turnstile, flap barrier, Swing gates, full height turnstile etc.
Production line
R&D Team
Technical team
After-sales service and customized service
Short opening times of 0.3 seconds for a high throughflow frequency
Comfortable non-contact passage
Simple integration of all common access control systems
Wide variants suitable for wheelchairs, prams, and material transport
JXT is a manufacturer, we can make OEM turnstile barrier gate, for our flap barrier, can integrate with facial recognition, RFID card, QR CODE, Barcode and Fingerprint.
Our flap barrier price is conpetitive.
Turnstile barrier gate are very popular.
Application area:
Luxury speed gate tursntile, adopts high standard brushed 304 stainless steel, double brushed surface treatment, dustproof, rustproof, rainproof design, suitable for indoor and outdoor use.