Full height Turnstile
Shenzhen Jiaxuntong (JXT) Technology Co., Ltd full height turnstile mainly provideing outdoor applications within the project of highest security and vandal proof requirement. It can provide outdoor applications with high safety factor and high breaking factor. It is also used in stadiums, competitive venues, indoor security, entertainment amusement parks, retail crowd control and access control in the hotel lobby. That is, there is comprehensive protection and basic functions to adapt to the requirements of individual customers, such as: fire alarms and access control, are allowed to enter and exit freely.
1. Laser cutting process with internal welding
2. Low noise and smooth operation
3. Service life: 500 million times
4. Swipe the card to open the reverse reverse LED display
5. Full-auto (motor drive): high-precision angle encoder for angle detection and control; power-off automatic reset function
6. Industrial-grade drive board, put into use for 18 years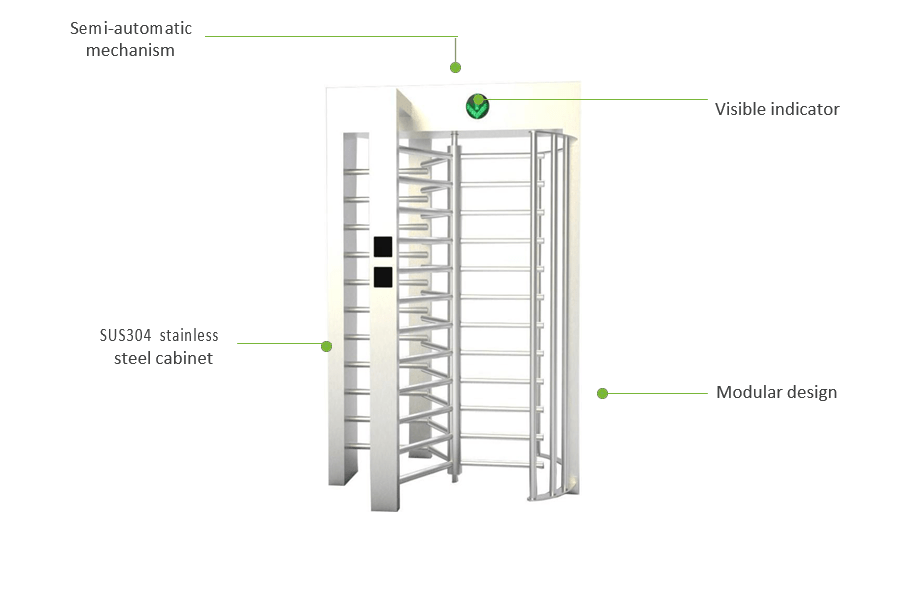 Full height Turnstile
The motorised version speeds up throughput whilst further facilitating the use of the tripod turnstile. After an authorising input from the access control system the arms inch forward to show the user that they have been authorised, then, after a small amount of pressure from the user the arms complete ther cycle.
The double lane mechanical turnstiles are identical to the single lane turnstile counterparts, with the addition of a second lane, which can be used for two person to enter or leave simultaneously or one in and one out, free entrance or exit, alternatively the turnstile can be programmed to change over a certain times for peak flow traffic.
Both single and double lane full height turnstile arms can rotate in one or two directions, controlled by an access control system, movement detectors, push button, guard station, reception desk or a combination of systems.
If there are any question, please feel free to contact with us.