Our CF series tripod turnstile represent classic and safe way to protect your premises. They are used in various indoor & outdoor environment applications. Turnstile fit perfectly as an economical option in the office buildings and other related applications.
Tripod Turnstile can integrate RFID Card, QR CODE, Fingerprint and Facial recognition.

Features
SUS304 stainless steel robust cabinet with pretty spot welding and polishing and robust arms assembly

Bi-directional tripod turnstile with arm reliably drop on fire activation,not bounce up and block the walkway

LED pictogram for intuitive user experience and high throughput in both directions

High quality at an affordable price

Low power consumption

Wide range of accessories

Easy and simple installation process and maintain and monitor

Prevented by the anti-reverse rotation device at 60 degree rotation

Mechanism with shock absorber/damper ensure silent smooth operation

Industrial drive board with long service time
Specifications
Power requirements

AC110V/220V, 50/60Hz

Power consumption

Starting

73W

Standby

20W

Unlock

63W

Working temperature

-28 °C - 60 °C

Working humidity

5%-80%

Working environment

Indoor/Outdoor(if sheltered)

Speed of throughput

RFID

Maximum 30/minute

Fingerprint

Maximum 25/minute

Lane width(mm)

550-570

Dimension(mm)

L=1200, W=280, H=980

Dimension with packing(mm)

L=1400, W=400, H=1100

Net weight(kg)

60

Weight with packing(kg)

68

LED indicator

Y

Cabinet material

SUS304 Stainless Steel

Barrier material

SUS304 Stainless Steel

Input interface

RS485/Dry Contact/Relay/DC12V

Barrier movement

Rotation

Emergency mode

Y

Security level

Medium

Mean cycles between failure (MCBF)

5 million

Options/Accessories

Counter, SUS316 Cabinet and Lid, Remote Control,Access Control

Drive Variant

Fully auto/Semi-auto

Housing Thickness

1.5*1.2mm(Top*Housing)

Enclose Rating

IP54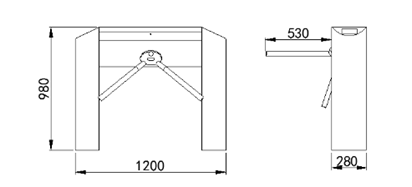 Tripod Turnstile
The JXT tripod turnstiles is used in swimming pools, factories, stadiums or public toilets. This is a very general series with reliable personal management and is the ideal choice. It has a sturdy outer casing and its protective arm is made of stainless steel, which not only withstands impact, but also for outdoor applications (optional). The JXT tripod turnstile offers a wide range of operations: access management for people, application management for people, and two-way access. In addition, JXT turnstiles are ideally equipped for emergencies: The barrier allows free passage if there is a power outage or alarm signal. With the Drop-Arm option, the upper arm drops downwards and thus provides free passage. The arm automatically returns to its original position after the emergency contact reopens or power has been restored. Our innovative drive technology operates without maintenance, energy-efficiently and quietly, and its sensitive impact detection ensures maximum personal safety. JXT Tripod turnstiles can be controlled using all common access control systems and are available with three housing variants. #waist high turnstile price
The tripod turnstile has a qualitative leap, and manufacturers have combined the two-dimensional code technology with RF technology to provide a more convenient way to check tickets.
Two-dimensional code technology: With the popularization of mobile phones, people hope to use mobile phones to check tickets when they pass the three-roller gate. Three-roller brake manufacturers in China have begun to provide this technology! The user purchases the ticket through the e-commerce platform, and the ticket is sent to the user's mobile phone in the form of a two-dimensional code. When the user checks the ticket, the QR code in the mobile phone is opened, and the scan window of the three-roll gate is scanned, and the gate is activated after the ticket is passed. by.
#tripod turnstile gates #luxurious tripod turnstile gate please check our syle CF-T07.