Flap Barrier Turnstile
The flap barrier turnstile is an elegant cost-effective entrance control system designed for high-traffic volume.
The CF-Y02 is a dual lane flap barrier turnstile designed for smooth and silent operation. It's made of stainless steel which makes CF-Y02 flap barrier gate highly durable.
Flap Barrier Turnstile Gate, one of the channel management equipment, is mainly used for pedestrian channel management; it has the characteristics of quick opening, safety and convenience, and is an ideal management and grooming device for pedestrians with high frequency access and passage; it is widely used in airports, subway stations and stations. , docks, attractions, parks, student dormitories, unit walkways, etc., can be used with smart cards to achieve off-line ticketing management system functions, forming unattended management of personnel access. Domestically, this piece of product is developing very fast. The main manufacturers are all in Shenzhen.
CF-Y02 Security Flap gate can interage with reader (RFID Card reader and/or fingerprint reader ) positively recognizing a user's valid access card or fingerprint.
Also Facial recognition.

Features
Reliability
1. CF-Y02 flap barrier used SUS304 stainless steel ensure long-lasting durability.
2. High quality electrical components.
Safety Features
1. Barriers retract automatically during emergencies.
2. Barriers retract automatically during power outage with battery installed.
3. All smooth finishing. No exposed screws.
4. Ergonomic design makes card and fingerprint authentication fast & simple for users.
Built-in Reader Integration
1. CF-Y02 plus series is already integrated with our customers' preference for either card or fingerprint access control reader. This greatly reduces installation time & expense.
2. CF-Y02 plus series and associated access control readers are all factory-tested prior to shipping.
3. JXT provides true plug&play turnstiles with the lowest possible total cost of ownership in the industry.
Specifications
Power requirements

AC 100 ~ 120V/200 ~ 240V, 50/60Hz

Working temperature

-28℃~60℃

Working humidity

5%~80%

Working environment

Indoor/outdoor (if sheltered)

Speed of throughput

RFID

Maximum 30/ minute

Fingerprint

Maximum 25/ minute

Lane width(mm)

600/ (900MM Wide Lane Available)

Dimensions(mm)

L=1400, W=280, H=980

Dimension with packing(mm)

L=1510, W=400, H=1100

Net weight(kg)

88

Weight with packing(kg)

99

LED indicator

Y

Cabinet material

SUS304 Stainless Steel

Sensor

4 pairs/6Pairs

Barrier material

Acrylic(18mm)/PMMA (thickness 50mm, red/blue optional)

Barrier movement

Retracting

Emergency mode

Y

Security level

Medium

MCBF

5 million

Options/Accessories

Counter, SUS316 Cabinet and Lid, Remote Control, Access Control

Transmission Variant

Gear transmission

Housing Thickness

1.5*1.2mm (Top*Housing)

Enclose Rating

IP54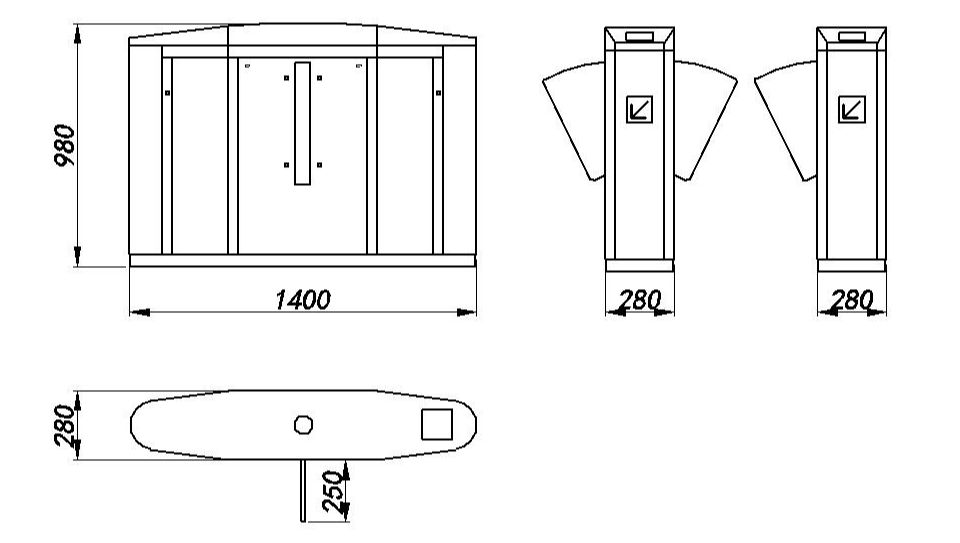 Flap Barrier Turnstile:
1. Laser cutting process with internal welding
2. Low noise and smooth operation
3. Service life: 500 million times
4. Illegal intrusion into the infrared alarm
5. Swipe the card to open the reverse reverse alarm
6. High-precision angle encoder for angle detection and control
7. One-to-one driver board, industrial grade 32-bit ARM chip 8. Mechanical collision avoidance movement: mechanical and infrared double anti-trapping