Flap Gate Barrier
The flap gate barrier is an elegant cost-effective entrance control system designed for high-traffic volume.
The CF-Y08 is a dual lane flap gate barrier series designed for smooth and silent operation and draws very little power. It's made of stainless steel which makes CF-Y08 flap gate barrier highly durable.
CF-Y08 Barrier Gate are general held in a locked position, thus denying access to the secured side.
CF-Y08 turnstile barrier can integrate RFID Card, Fingerprint, QR CODE, BARCODE and Facial recognition. its barriers retract upward automatically, thus allowing users passage to the secured side.
Face recognition is required in many applications, but the most practical application is the office building. The office can be equipped with a face recognition door for smart office work. Face recognition can be done in seconds, and users can say goodbye to traditional sliding methods. Improvements can not only enhance the management and service of the office building, but also enhance the user experience. At the same time, companies and properties can use data collected through the gates to optimize management solutions. However, it seems that the application of the face recognition swing gate is more practical, and the application of the face recognition wing gate is still relatively small. The main reason is to consider the following two points. First, considering the flexibility of use, the swing door is stronger than the wing door; on the other hand, the face recognition revolving door is better than the face recognition wing door, but there are also a few users who can consider the traffic volume, so the face will be considered. Identify the wing door.
During emergencies the barriers automatically retract upward, thereby avoid users being trapped. A battery for power outage safety can be installed for retracting the barrier automatically.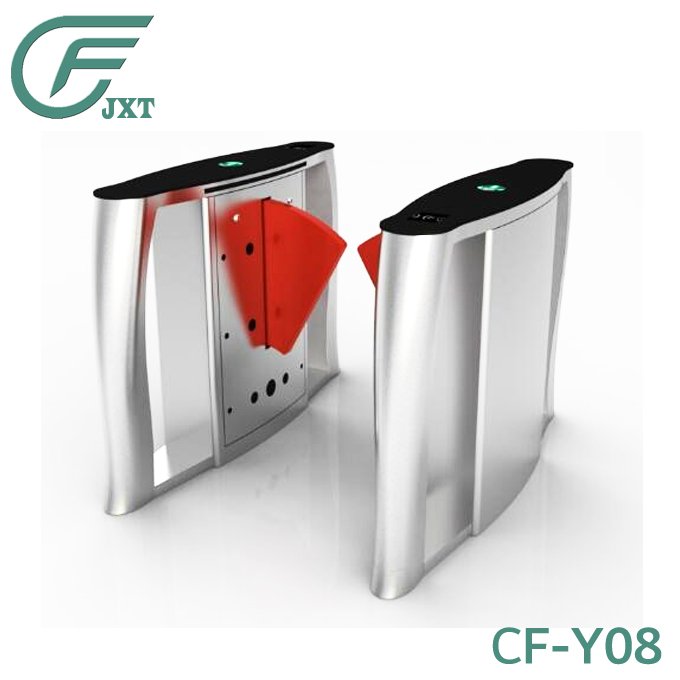 Specifications
Power requirements

AC 100 ~ 120V/200 ~ 240V, 50/60Hz

Working temperature

-28℃~60℃

Working humidity

5%~80%

Working environment

Indoor/outdoor (if sheltered)

Speed of throughput

RFID

Maximum 30/ minute

Fingerprint

Maximum 25/ minute

Lane width(mm)

600/ (900MM Wide Lane Available)

Dimensions(mm)

L=1400, W=280, H=980

Dimension with packing(mm)

L=1500, W=400, H=1100

Net weight(kg)

95

Weight with packing(kg)

105

LED indicator

Y

Cabinet material

SUS304 Stainless Steel

Sensor

4 pairs

Barrier material

Acrylic(18mm)/PMMA (thickness 50mm, red/blue optional)

Barrier movement

Retracting

Emergency mode

Y

Security level

Medium

MCBF

5 million

Options/Accessories

Counter, SUS316 Cabinet and Lid, Remote Control, Access Control

Transmission Variant

Gear transmission

Housing Thickness

1.5*1.2mm (Top*Housing)

Enclose Rating

IP54
Flap gate barrier one of the channel management equipment:
1. is mainly used for pedestrian channel management;
2. it has the characteristics of quick opening, safety and convenience,
3. is an ideal management and grooming device for pedestrians with high frequency access and passage;
4. it is widely used in airports, subway stations and stations , docks, attractions, parks, pedestrian walkways, etc.,
5. can be used with smart cards to achieve off-line ticketing management system functions, forming unattended management of personnel access.