Steel Swing Gate
OI (operating instructions) for Steel Swing Gate
First, the general description
1. The display refers to the 3-digit LED displayed from left to right on the main control board; #steel swing gates
2. The three buttons are from the left to the right, the INC button, the SET button, the DEC button, the SET button is used to enter and exit the menu or enter and exit the function settings; the INC button is used to add 1 to the parameters to be set; The DEC key is used to decrement the parameter to be set by 1;
Second, the entry and exit menu settings #swing gate automation
1. Enter the menu: press the SET button, after hearing the "beep", release the SET button. At this time, the display shows "P00", indicating that you have entered the menu setting state. At this time, the INC button and the DEC button can be used. To select the function number of the setting function; press the INC key, the function number is increased by 1, and the DEC key is reduced by 1; there are 15 function settings, respectively:
P00: Exit the function of menu setting. When P00 appears, press SET to exit the menu setting; #access control systems
P01: Running direction when the motor is powered on, =000: forward rotation when power is on, =001 reverse when powering up.
P02: The maximum running time of the gate, the unit is 0.1 second. If the time is set to 60, that is, 6 seconds, the gate will stop closing when the gate is not closed for 6 seconds (the system default is 60).
P03: Pedestrian transit time, in seconds. If this time is set to 10, it will be 10 seconds. If the pedestrian does not pass the set time after swiping, the card will be cancelled. (The system default is 10)
Swing gate can integate with Facial recognition, QR code, Barcode, Fingerprint anc RFID card.
In the current world, people tend to (turnstile gates) integrate facial recogniton and RFID card at the same time.
Secondly is integrated QR CODE or Barcode and Fingerprint.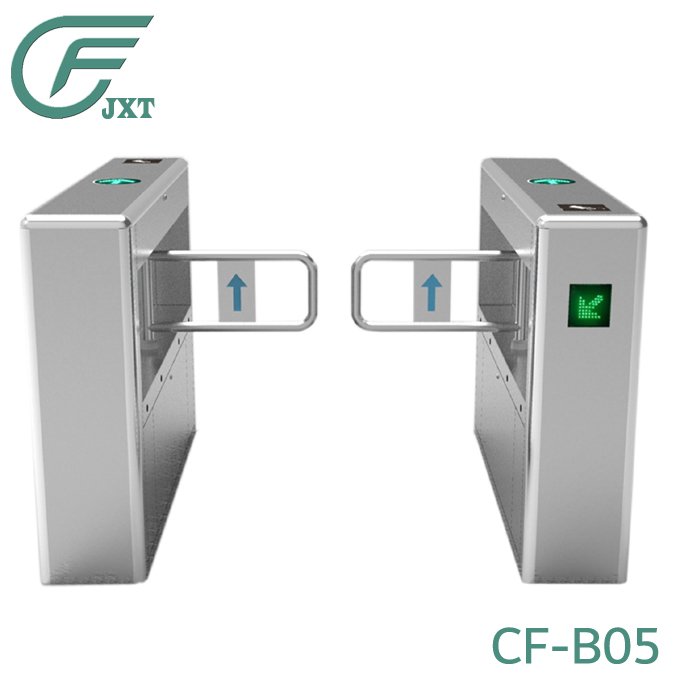 Technical Data Sheet
Description

CF-B05

Application

Indoor

Housing Thickness

1.5 x 1.2 mm (Top x Housing)

Housing Material

Stainless Steel 304

Drive Variant

Fully / Semi Auto

Bar Length

510 mm

Voltage

110 - 240 VAC, 50/60 Hz

Power Consumption

Max. 50 W

Access Rate

30 pass / minute

Housing Dimension

1400 x 280 x 980 mm (L x W x H)

Enclosure Rating

IP 54

Input Interface

DC 12v, RS 485

Temperature Range

-15 ~ 60° C

Access Control System

Facial Recognition, Finger Print, IC, ID,

QR Code, Bar Code

Barrier Elements Variant

PU Foam, Acrylic (standard width only)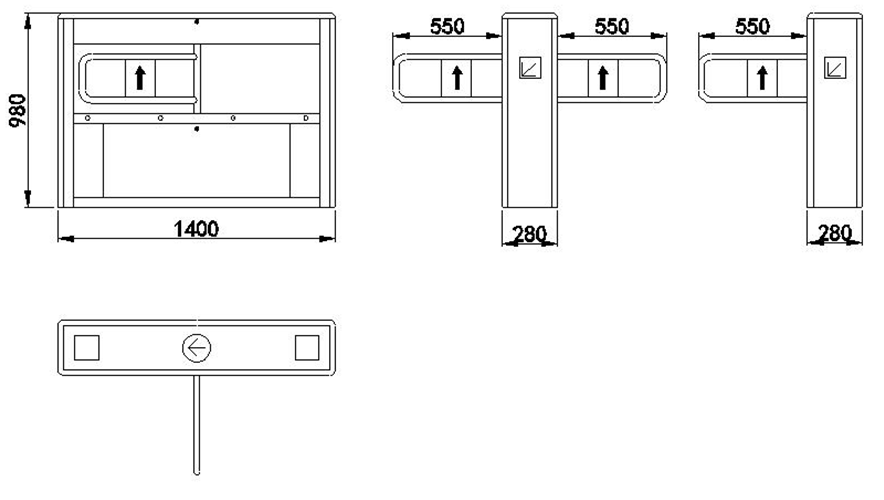 1. Material: 304 stainless steel
2. Size: length 1400* width 200* height 980MM
3. Thickness: Top cover 1.5mm Other: Non-standard 1.5m
4. Swing arm length: 450mm
5. Passage width: less than 1000M
6. Passing speed: 30-60/min
7. AC110~220V±10% 50Hz(input)/AC24±10%(control)
8. Temperature: -25~+70°C
9. Input signal: 12vdc/RS485/dry contact
Advantage
1. Laser cutting process with internal welding
2. Low noise and smooth operation
3. Service life: 500 million times
4. Illegal intrusion into the infrared alarm
5. Swipe the card to open the wide swing gate retrograde alarm
6. Our swing gates has a high-precision encoder for angle detection and control
7. We made steel swing gate with One-to-one driver board, and industrial grade 32-bit ARM chip 8. Full electric anti collision avoidance mechanism: with clutch device, can effectively protect the swing gate mechanism and extend the life of the swing gate mechanism.