Outdoor Swing Gate
1, preparation before commissioning
1 set of swing gate wiring diagram and 1 set of swing gate equipment.
2, check the wiring
Check the wiring of the motor and the mains wiring according to the wiring diagram. Check that the power wiring and other wiring of the entire equipment are correct. After confirmation, you can power on and debug!
The protection ground of the equipment must be grounded reliably, otherwise debugging is not allowed;
3, function debugging
1) This gate is a two-way normally closed swing gate. The external incoming swipe signal and the outgoing swipe signal.
2) When there is no card swiping signal, the pedestrian will alarm when entering from the forward direction. Similarly, when there is no card swiping signal, the pedestrian will alarm when entering from the outbound direction.
3) Pedestrian brush cartoon line: When the pedestrian swipes, the direction indicator turns into a green arrow, and the gate opens to delay. When the pedestrian passes, the gate closes and the green arrow turns red. If the pedestrian is still unable to pass the gate, the gate will be closed. Off, the green arrow turns red to prohibit.
4) If the pedestrians are too close when passing by, the specific time is limited to one person.
5) The running speed of the swing gate switch is adjustable. See parameter setting for details.
4, power on operation
1) The intelligent swing gate is a normally closed swing gate. After power-on, the gate is automatically closed and the power is automatically turned on.
#automatic swing gate mechan #dual swing gate operator #motorized swing gate
Outdoor Swing gate can integate with Facial recognition, QR code, Barcode, Fingerprint anc RFID card.
In the current world, people tend to (turnstile gate) integrate facial recogniton and RFID card at the same time.
Secondly is integrated QR CODE or Barcode and Fingerprint.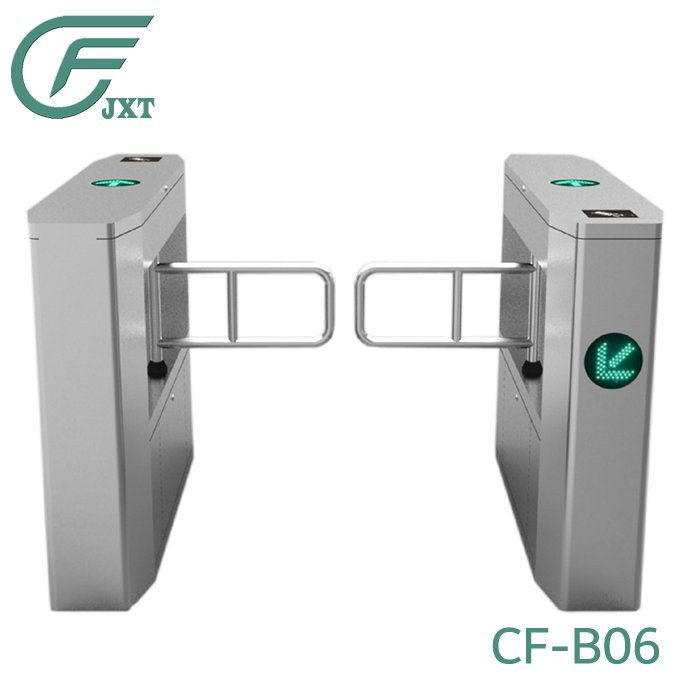 Technical Data Sheet
Description

CF-B06

Application

Indoor

Housing Thickness

1.5 x 1.2 mm (Top x Housing)

Housing Material

Stainless Steel 304

Drive Variant

Fully / Semi Auto

Bar Length

510 mm

Voltage

110 - 240 VAC, 50/60 Hz

Power Consumption

Max. 50 W

Access Rate

30 pass / minute

Housing Dimension

1400 x 280 x 980 mm (L x W x H)

Enclosure Rating

IP 54

Input Interface

DC 12v, RS 485

Temperature Range

-15 ~ 60° C

Access Control System

Facial Recognition, Finger Print, IC, ID,

QR Code, Bar Code

Barrier Elements Variant

PU Foam, Acrylic (standard width only)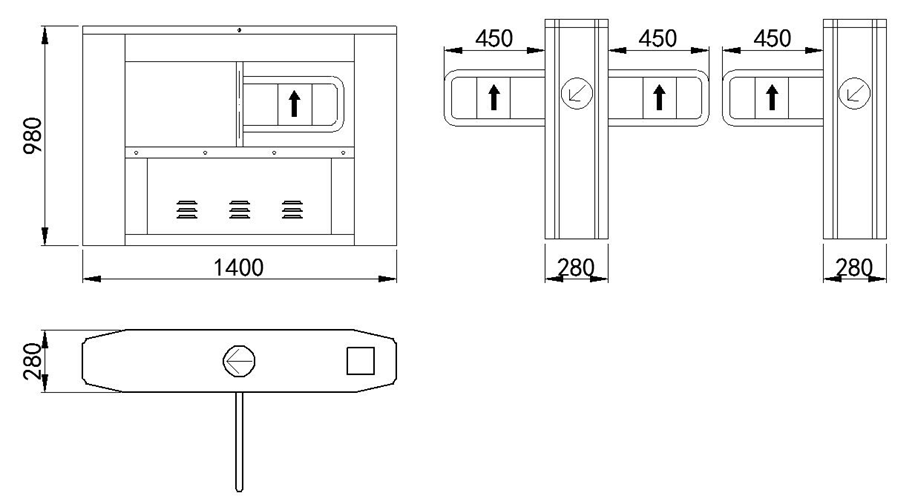 1. Material: 304 stainless steel
2. Size: length 1400* width 200* height 980MM
3. Thickness: Top cover 1.5mm Other: Non-standard 1.5m
4. Swing arm length: 450mm
5. Passage width: less than 1000M
6. Passing speed: 30-60/min
7. AC110~220V±10% 50Hz(input)/AC24±10%(control)
8. Temperature: -25~+70°C
9. Input signal: 12vdc/RS485/dry contact
Advantage
1. Laser cutting process with internal welding
2. Low noise and smooth operation
3. Service life: 500 million times
4. Illegal intrusion into the infrared alarm
5. Swipe the card to open the wide swing gate retrograde alarm
6. Our swing gates has a high-precision encoder for angle detection and control
7. We made outdoor swing gate turnstile with One-to-one driver board, and industrial grade 32-bit ARM chip 8. Full electric anti collision avoidance mechanism: with clutch device, can effectively protect the swing gate mechanism and extend the life of the swing gate mechanism.