Safety Swing Gate (Luxury)
Major function
1. Manual unlock function: When encountering power system failure, don't worry, Safety Swing Gate has the function of manual mechanical unlocking. You can use special lock to open the release device and make the channel into a freely accessible channel. It is also possible to use a mechanical key to achieve a fault or power failure to unlock, thus preventing it from happening;
2. Reasonable anti-pinch and over-current protection design to ensure the safety of passers-by at any time and place;
3. It has up to 16 modes of communication, which can fully meet the needs of 99% of domestic management sites; it can also meet the needs of 70% of foreign management sites.
4, the right amount of adjustment can simultaneously meet the personnel traffic, people and vehicles mixed mode;
5. The security level is AAA;
6, expandable function, prompt traffic indicator, sound and light alarm.
In the way of access control identification card and fingerprint or palm print are all familiar, is also the most used two kinds of access control identification system, today to introduce face recognition in the wing gate control system application advantages, I hope to help you know more about the wing gate knowledge.
Safety Swing Gate can integate with Facial recognition, QR code, Barcode, Fingerprint anc RFID card.
In the current world, people tend to (turnstile gate) integrate facial recogniton and RFID card at the same time.
Secondly is integrated QR CODE or Barcode and Fingerprint.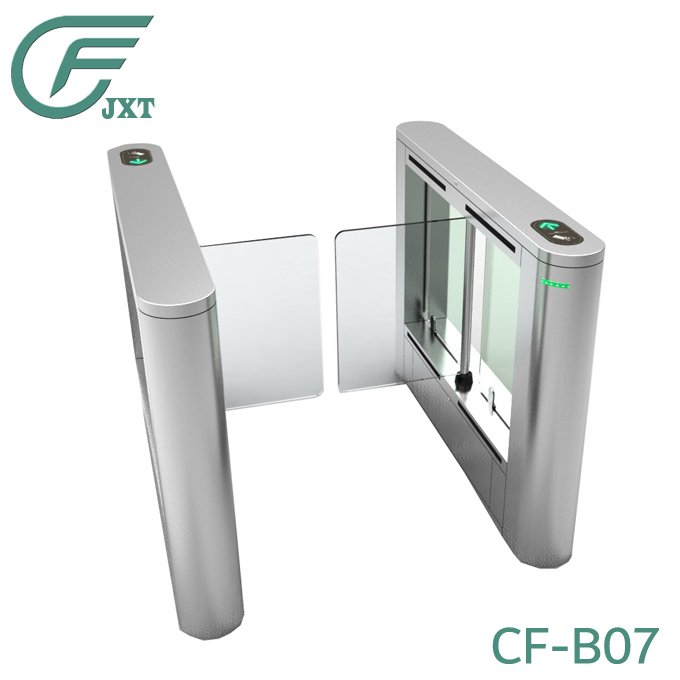 Technical Data Sheet
Description

CF-B07

Application

Indoor

Housing Thickness

1.5 x 1.2 mm (Top x Housing)

Housing Material

Stainless Steel 304

Drive Variant

Single / Double

Channel Width

550 ~ 580 mm

Voltage

110 ~ 240 VAC, 50/60 Hz

Power Consumption

Max. 50 W

Access Rate

30 ~ 45 pass / minute

Housing Dimension

1400 x 200 x 1020 mm (L x W x H)

Enclosure Rating

IP 54

Input Interface

DC 12v, RS 485

Temperature Range

-15 ~ 60° C

Access Control System

Facial Recognition, Finger Print, IC, ID,

QR-Code, Bar-Code

Barrier Elements Variant

PU Foam, Acrylic (standard width only)

Passage Direction

Single / Bi-Direction

Anti-Tailgating

Yes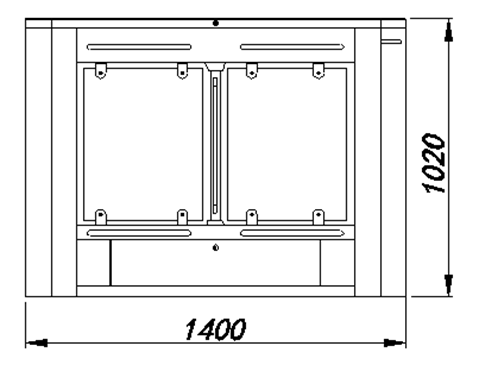 1. Material: 304 stainless steel
2. Size: length 1400* width 200* height 980MM
3. Thickness: Top cover 1.5mm Other: Non-standard 1.5m
4. Swing arm length: 450mm
5. Passage width: less than 1000M
6. Passing speed: 30-60/min
7. AC110~220V±10% 50Hz(input)/AC24±10%(control)
8. Temperature: -25~+70°C
9. Input signal: 12vdc/RS485/dry contact
Advantage
1. Laser cutting process with internal welding
2. Low noise and smooth operation
3. Life time: 500 million times
4. Illegal intrusion into the infrared alarm
5. Swipe the card to open the gate retrograde alarm
6. High-precision encoder for angle detection and control
7. Our Safety swing gate made with One-to-one driver board, industrial grade 32-bit ARM chip 8. Full electric Anti collision avoidance mechanism: with clutch device, can effectively protect the mechanism and extend the life time of the mechanism