Speedgate
The speed of social development, the same requirements for the appearance of the gates are also increasingly demanding. Therefore, the need for speed gates/speed gates has also increased. From the versatile application to the aesthetics of the design. The BDS-707C is the preferred gate in the safety door type. The design department of Shenzhen Jiashuntong (JXT) Technology Co., Ltd. follows the speed of world development, and has appropriate design and functional design for different environments. Use places include high-end office buildings, administrative facilities, etc. The speed door uses 304 stainless steel as its outer casing and will not rust. The swing arm uses a highly damaging glass, and the overall speed gate makes it look very high-end. The speed gate is equipped with 6 pairs or more pairs of infrared sensors, which is very safe for life and can be effectively prevented from being caught by the user when passing.
Where enterprises or factories have large traffic, common access management methods require a new type of security management system, which is the access control speedgate system. It solves the problems of difficult identification, effective judgment, long-distance identification, rapid passage, and bicycle accessibility, which facilitates daily management.
In order to achieve unattended access management, the hardware commonly used in access control gate systems generally includes access control or speed-pass doors, or speed-pass doors combined with access controllers and software departments. The gate channel equipment combines the access control system, the visitor system, the consumption, the attendance and other systems to derive the gate channel equipment of various functions. The attendance gate system is used for more office buildings, and the consumption gate system is used for the entrance and exit of the canteen. The visitor gates are used in various occasions such as office buildings and factories.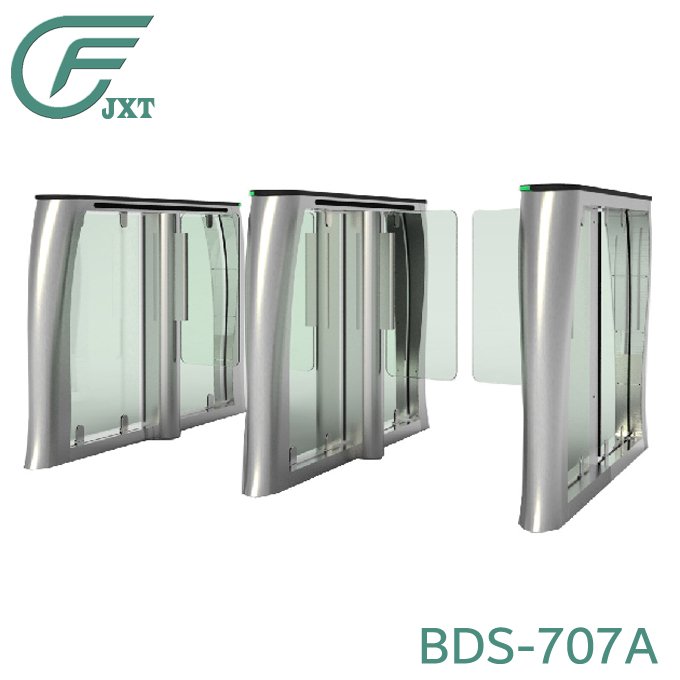 Description

BDS-707A

Application

Indoor & Outdoor

Housing Thickness

Tip 2.0mm Body 1.5mm

Housing Material

Stainless Steel 304

Drive Variant

Single / Double

Channel Width

600 ~ 800 mm

Voltage

110 ~ 240 VAC, 50/60 Hz

Power Consumption

Max. 50 W

Access Rate

50 pass / minute

Housing Dimension

1400 x 180 x 955 mm (L x W x H)

Enclosure Rating

IP 54

Input Interface

DC 12v, RS 485

Temperature Range

-15 ~ 60° C

Access Control System

Facial Recognition, Finger Print, IC, ID,

QR-Code, Bar-Code

Barrier Elements Variant

Channel, Arm Length, LED, DC Brushless, Servo Motor, Housing color option

Passage Direction

Single / Bi-Direction

Anti-Tailgating

Yes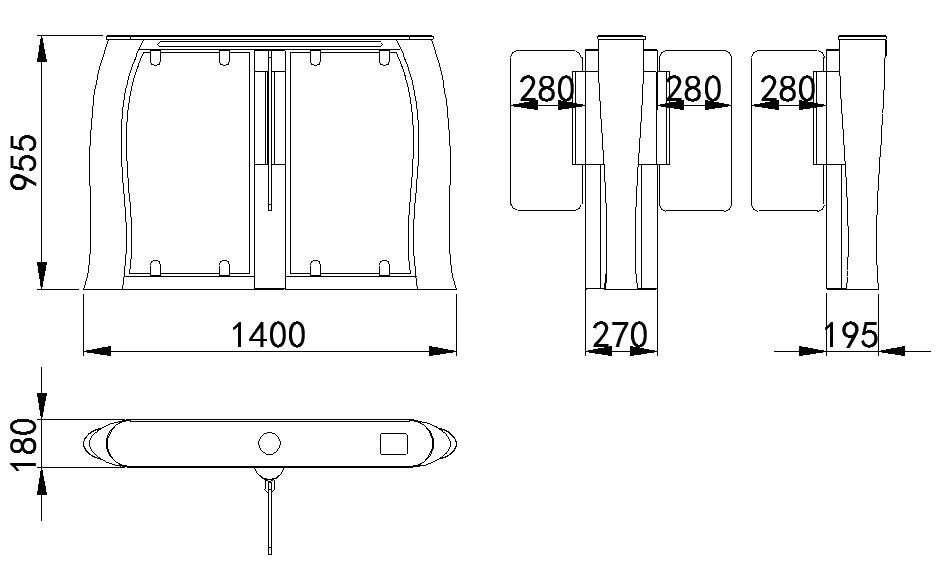 1. Material: 304 brushed steel
2. Product size: length 1400 width 180* height 960MM
3. Thickness: top cover non-standard 2.0mm chassis 1.5mm
4. Channel width: 650MM
5. Door wing: plexiglass / acrylic thickness 8MM
6. Passing speed: 30-60/min
7. AC110~220V±10% 50Hz(input)/AC24±10%(control)
8. Ambient temperature: -25~+70°C
9. Input signal: 12vdc/RS485/dry contact
Advantage
1. Laser cutting process with internal welding
2. Low noise and smooth operation
3. Service life: 500 million times
4. Illegal intrusion into the infrared alarm
5. Swipe the card to open the gate retrograde alarm
6. We made speedgate with One-to-one driver board, industrial grade 32-bit ARM chip
7. Servo drive motor, the Mechanism has anti-collision function, customized new c, current anti-pinch, precise positioning, opening speed up to 0.25 seconds, with CAN+R232 network server, remote upgrade for easy maintenance)