Security Speed gate
BDS-707F security speed gate became rather demanded type of security gates. Due to its trendy appearance and wide functional capability, Shenzhen Jiaxuntong (JXT) Technology Co., Ltd speedgate are suitable for large variety of sites, including offices, banks, administrative facilities etc.. Elegant design, stainless steel housing in combination with availability of glass, or metal surfaces make these very stylish. The speedgate are equipped with optical sensors (infrared) which allow to prevent unauthorized access as well as serve intensive authorized pedestrian access. By default all security gates set as "normally closed". Other access control modes as "normally opened" or "free exit" are available.
JXT speedgate uses the latest high-tech access control system to control the number of passers. The first is to ensure that only one person can be authorized and available at one time. This is the most common way to get around. Their use is very simple, the most important thing is that its transit speed is very fast, and its channel width can also be increased. The number of people per minute is about 50-60 people, and its various designs can meet the needs of various environments.
#security speed gates #speed gate #security gates # security gate # authorized card #stainless steel housing
if there are any questions, please feel free to contact with us. thanks.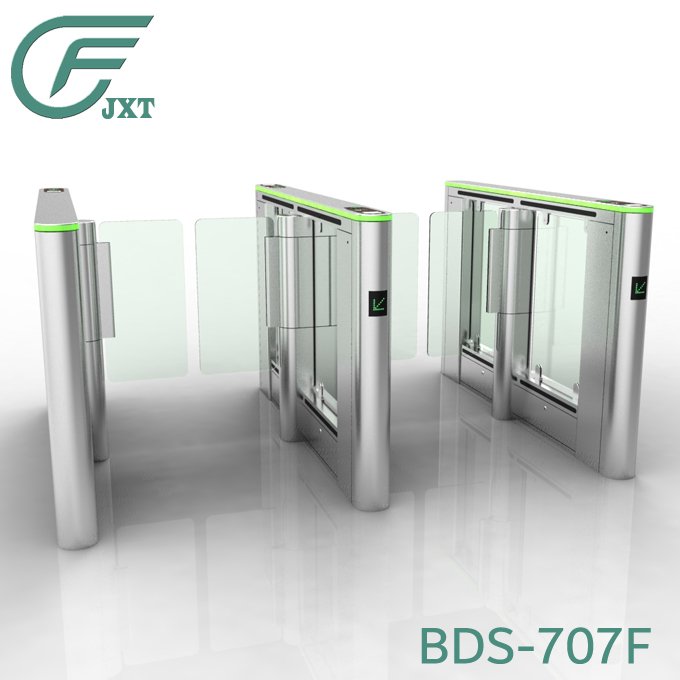 Description

BDS-707F

Application

Indoor & Outdoor

Housing Thickness

Tip 2.0mm Body 1.5mm

Housing Material

Stainless Steel 304

Drive Variant

Single / Double

Channel Width

600 ~ 800 mm

Voltage

110 ~ 240 VAC, 50/60 Hz

Power Consumption

Max. 50 W

Access Rate

50 pass / minute

Housing Dimension

1600 x 120 x 980 mm (L x W x H)

Enclosure Rating

IP 54

Input Interface

DC 12v, RS 485

Temperature Range

-15 ~ 60° C

Access Control System

Facial Recognition, Finger Print, IC, ID,

QR-Code, Bar-Code

Barrier Elements Variant

Channel, Arm Length, LED, DC Brushless, Servo Motor, Housing color option

Passage Direction

Single / Bi-Direction

Anti-Tailgating

Yes
1. Material: 304 brushed steel
2. Product size: length 1400 width 180* height 960MM
3. Thickness: top cover non-standard 2.0mm chassis 1.5mm
4. Channel width: 650MM
5. Door wing: plexiglass / acrylic thickness 8MM
6. Passing speed: 30-60/min
7. AC110~220V±10% 50Hz(input)/AC24±10%(control)
8. Ambient temperature: -25~+70°C
9. Input signal: 12vdc/RS485/dry contact
Advantage
1. Laser cutting process with internal welding
2. Low noise and smooth operation
3. Service life: 500 million times
4. Illegal intrusion into the infrared alarm
5. Swipe the card to open the gate retrograde alarm
6. We made security speed gate with One-to-one driver board, industrial grade 32-bit ARM chip
7. Servo drive motor, the Mechanism has anti-collision function, customized new c, current anti-pinch, precise positioning, opening speed up to 0.25 seconds, with CAN+R232 network server, remote upgrade for easy maintenance)