Full height Turnstile
The full-height turnstile is mainly used in projects with high safety and damage prevention requirements. He is mainly used in outdoor applications. Most suitable for prison management. It can integrate a variety of applications, such as fingerprints, face recognition, RFID cards, QR codes, etc. for the management of consumer systems or access control. Applicable locations include perimeter and interior security for stadiums and arenas, retail crowd control for entertainment and amusement parks, and lobby access controls. Therefore, the full height turnstile has comprehensive protection to meet customer requirements. When a full-height turnstile encounters a fire or other emergency, an emergency passage is provided to allow personnel to enter and exit freely.
After the full-height revolving door receives the authorization input from the access control system, the arm will rotate 5-10 degrees forward to show the user that they are authorized to pass through the channel. A rotation is then completed after a small amount of thrust from the user.
The Single lane mechanical turnstiles are identical to the duel lane mechanical turnstile, they are both can be used for person to enter , free entrance or exit, alternatively the turnstile can be programmed to change over a certain times for peak flow traffic.
Below picture showing single lane mechanical turnstiles. any questions here?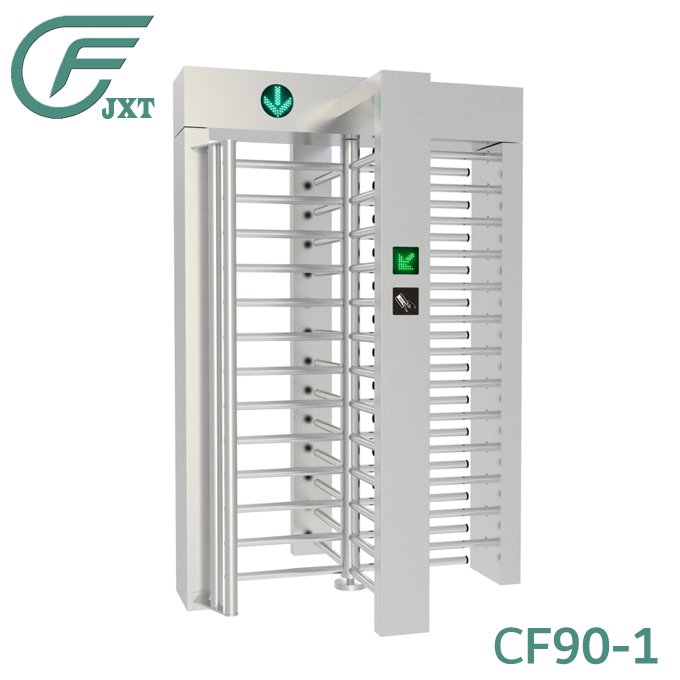 Specifications
Power requirements

AC110V or 220V, 50Hz

Working temperature

-28℃~60℃

Working humidity

0%~95%

Working environment

Indoor/Outdoor

Speed of throughput

RFID

Maximum 35/minute

Fingerprint

Maximum 30/minute

Facical recognition

Maximum 20/minute

QR Code

Maximum 20/minute

Lane width

580mm

Dimensions

Length=1520mm Width=1280mm High=2250mm

Dimension with packing

2100x1150x1090mm & 2220x630x630mm & 1630x300x400mm

LED indicator

Y

Cabinet material

SUS304 Stainless Steel

Barrier material

SUS304 Stainless Steel

Barrier movement

Rotating

Emergency mode

Y

Security level

High

MCBF

5 million

Ingress protection

IP54

Options/Accessories

Counter, Remote Control, Access Control

Drive Variant

Semi-auto

Housing Thickness

1.2*1.5mm (Top*Housing)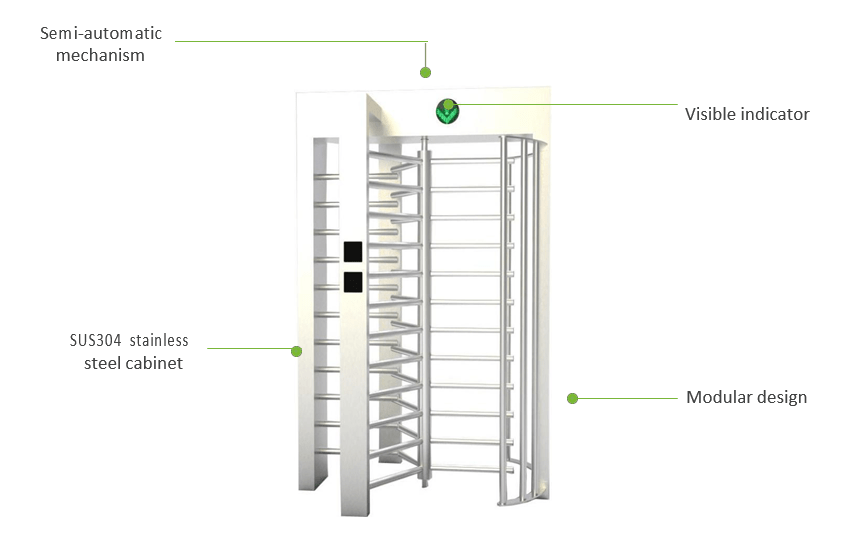 1. Housing material: 304 brushed steel
2. Product size: length 1520* width 1480* height 2250MM
3. Thickness: top cover non-standard 2.0mm chassis 1.5mm
4. Channel width: 550-600MM
5. Arms: 38mm
6. Passing speed: 30-45/min
7. AC110~220V±10% 50Hz(input)/AC24±10%(control)
8. Ambient temperature: -25~+70°C
9. Open signal: 12vdc/RS485/dry contact
Advantage
1. Laser cutting process with internal welding
2. Low noise and smooth operation
3. Service life: 500 million times
4. Swipe the card to open the gate retrograde LED display
5. Full-auto (motor drive): high-precision angle encoder for angle detection and control; power-off automatic reset function
6. Industrial-grade drive board, put into use for 18 years
If there are any questions or inquiry about Full Height Turnstile, please feel free to contact with us.