Full height Turnstile
Our full height turnstile CF90-2 is a two passage, mainly provideing outdoor applications within the project of highest security and vandal proof requirement.It can provide outdoor applications with high safety factor and high breaking factor. It is also used in stadiums, competitive venues, indoor security, entertainment amusement parks, retail crowd control and access control in the hotel lobby. Comprehensive options and basic features to suit individual customer requirements such as canopy, lighting, fire alarm and access control interface to allow free rotation.
The motorised version speeds up throughput whilst further facilitating the use of the tripod of the full height turnstile. After an authorising input from the access control system the arms inch forward to show the user that they have been authorised, then, after a small amount of pressure from the user the arms complete ther cycle.
The double lane mechanical turnstiles are identical to the single lane turnstile counterparts, with the addition of a second lane, which can be used for two person to enter or leave simultaneously or one in and one out, free entrance or exit, alternatively the turnstile can be programmed to change over a certain times for peak flow traffic.
Both single and double lane full height turnstile arms can rotate in one or two directions, controlled by an access control system, movement detectors, push button, guard station, reception desk or a combination of systems.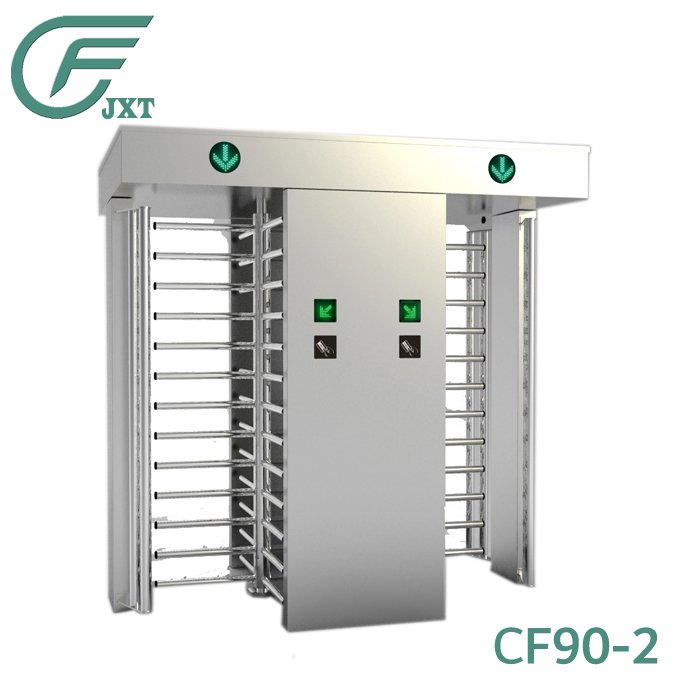 Specifications
Power requirements

AC110V/220V, 50/60Hz

Working temperature

-28℃~60℃

Working humidity

0%~95%

Working environment

Indoor/Outdoor

Speed of throughput

RFID

Maximum 35/minutes

Fingerprint

Maximum 30/minutes

Face

Maximum 25/minutes

QR Code

Maximum 20/minutes

Lane width

580mm

Dimensions

L=2200mm W=1480mm H=2250mm

LED indicator

Y

Cabinet material

SUS304 Stainless Steel

Barrier material

SUS304 Stainless Steel

Barrier movement

Rotating

Emergency mode

Y

Security level

High

MCBF

5 million

Ingress protection

IP54

Options/Accessories

Counter, Remote Control, Access Control

Drive Variant

Semi-auto

Housing Thickness

1.2*1.5mm (Top*Housing)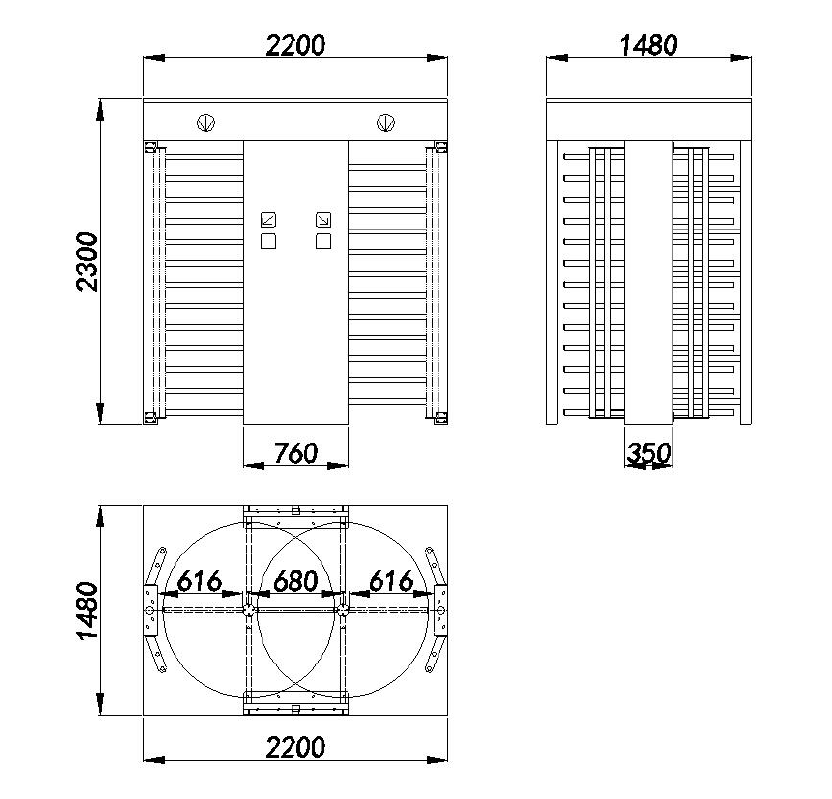 1. Housing material: 304 brushed steel
2. Product size: length 2200* width 1480* height 2250MM
3. Thickness: top cover non-standard 2.0mm chassis 1.5mm
4. Channel width: 550-600MM
5. Arms: 38mm
6. Passing speed: 30-45/min
7. AC110~220V±10% 50Hz(input)/AC24±10%(control)
8. Ambient temperature: -25~+70°C
9. Open signal: 12vdc/RS485/dry contact
Advantage
1. Laser cutting process with internal welding
2. Low noise and smooth operation
3. Service life: 500 million times
4. Swipe the card to open the gate retrograde LED display
5. Full-auto (motor drive): high-precision angle encoder for angle detection and control; power-off automatic reset function
6. Industrial-grade drive board, put into use for 18 years
If there are any questions or inquiry about Full Height Turnstile, please feel free to contact with us.
Mobile number is whatsapp.